RELEASE INFO & DOCUMENTATION
ORCA IN SEAPENS
(Source: Free Morgan Foundation)

Recently, a number of entities have been claiming that there have;

(1) Only ever been two orca held in seapens (also sometimes called ocean pens) and/or;
(2) There have never been any successful releases of orca from seapens.
These are both false claims. Here are the facts.
More than 55 orca have been held in seapens
Due to poor access to records from the captivity industry, it is unclear exactly how many orca have been held in seapens, but at an absolute minimum, more than 55 have been held (from days to decades). These orca were held in seapens for various reasons including; for public display, for making movies, whilst awaiting transfer to another captivity location, for research or for rehabilitation.
Of the ~55 held in seapens, at least 15 have been released back into the ocean. Of those who were released, some were only ever held in seapens whilst one was held in both a seapen and a variety of concrete tanks. Regardless, in all instances where records have been available, the orca were resighted (in one example the resighting occurred for more than three decades and in another for more than two decades).
To help put the nay-sayers comments into the framework of the facts and, so that the public can draw their own informed conclusions , we list here the currently (as of March 2016) known examples of orca held in seapens.
There are two tables. One lists those orca who were held in seapens and never released (i.e., they either died in the seapen or were transferred to a concrete tank) and the other lists those orca who were held in seapens and either escaped, were released or, in one case, 'broke away' from their trainers when out for 'exercise' and never returned to the seapen. The primary source of data has been the book by Eric Hoyt and the 'Deficiencies in the MMIR reports' by John Kielty and thanks are extended to them for their efforts. However other valuable and accurate sources are also listed (see details at the end of each table).
TABLE 1.
Orca who were held in seapens and never released.
NOTE: The longest duration an orca was held in a seapen = 'Nami' (25 years, 5 months, 6 days), followed by 'Haida 2' & 'Nootka IV' both who were both held in the same seapen for 10 years, 5 months, 1 day.
'Tilikum' who features in the documentary 'Blackfish' was first held in a seapen (for 7 years, 10 months, 1 day), then transferred to SeaWorld Orlando where he has been held in a concrete tank ever since. Tilikum sired a calf (Kyuquot) whilst in the seapen. Kyuquot was born in the same seapen and lived there for 1 year, 10 months, 16 days, before he was removed and sent to a different SeaWorld (San Antonio) where he now lives in a concrete tank.
See the Tables and Continue Reading Here!!
"Can dolphins who are captive-born be successfully released into the wild?"
(Source:www.rebelmouse.com)
I traveled 5 hours to hear his answer to my question. I would have traveled 5000.
I have always agreed with the notion that wild mammals cannot forget millions of years of instinct in just one generation of captivity. I have been searching for proof of a dolphin that would debunk Seaworld's myth.

Seaworld always claimed "A captive-born dolphin could never survive in the wild!"
You know what they say about " Never" Ric O'Barry does.
As the founder of The Dolphin Project, he never says never to saving a dolphin, any dolphin, anywhere...
This time he was in Las Vegas on Thursday to help Founder Shelly Rae of theThe Mojave Dolphins screen The Cove, followed by a Q & A with the beloved dolphin warrior. More on that, the protest and my interview with him in my follow-up.
After a well-deserved standing ovation, the questions were read. O'Barry was dapper in his all-black suit and converse all-stars. His answers were informative, inspiring and direct.
Soon my question came up, and the information I had been searching for was within my grasp:
Cetacean News Network -
"Can dolphins who are captive-born be released successfully into the wild?"
Ric O'Barry -
"There is a dolphin by the name of Annessa who is seen all of the time between Key Largo and Tavernier. She escaped from the Dolphin Research Center in Grassy Key, Florida.
Anessa was born in captivity... Although they say it can't be done and I've never released one born into captivity, I think it's possible under the right circumstances"
I heard the gasps in the audience. Thank you Mr. O'Barry. Another myth busted.
This dolphin proved you don't have to be from the wild to know that's where you belong.
Without any prior training, Annessa went into the wild and never looked back...
In Ken Balcomb's report on Successful Cetacean Releases, he recounts Anessa's events:
"Annessa, a captive-born Atlantic bottle-nose dolphin held at the Dolphin Research Center in the Florida Keys, disappeared and was feared lost during a hurricane in August, 1992. Annessa survived the hurricane, however, and was adopted by a pod of wild dolphins. She has been sighted numerous times - healthy and foraging on her own.
One dolphin; Captive since birth; followup successful."
According to Ceta-Base Annessa escaped on August 23 1992. The culprit was Hurricane Andrew.

But the incredible thing is that she survived through 2 more hurricanes that swept through that area following her escape.

Hurricane Andrew bearing down on Florida on August 23, 1992. ... Later, Hurricane Katrina (August 25) passed through South Florida and Hurricane Rita (September 20) swept through the Florida Keys.

During Annessa's time in captivity, according to her captives, this was her life and her dismal future:
"...when Rodriguez left with his bucket of fish, both Nat and Annessa swam back into their pens. We'd been standing in open water with the dolphins. They could have chosen to swim into the Gulf of Mexico, but apparently, they preferred their human friends and the place that has been home for many years."
...until the opportunity to escape, that is.

Annessa was 11 when it happened. Before then she is described as being shy. As one reporter from The Pittsburg Press recounts during a visit in 1990:
"Annessa, a captive-born Atlantic bottle-nose dolphin held at the Dolphin Research Center in the Florida Keys, disappeared and was feared lost during a hurricane in August, 1992.
Maybe she was plotting her escape instead of getting more dead fish for kisses?
In Ken Balcomb's report on Successful Cetacean Releases, he recounts Anessa's events:
The Dolphin Research Center is a dolphinarium under the guise of research on Grassy Key, Florida.
The 90,000-square-foot series of saltwater lagoons carved out of the shoreline. They have 8 different dolphin encounters daily, none of which are educational or based on research.
Strangely enough, they also have cats.
Cats are known to be dangerous in transmitting disease to dolphins. Their presence is a risk to the dolphins health and welfare, but this isn't about science this is about entertainment, greed and animal abuse cloaked to promote conservation.
Above caption is on their site: "Others have joined the family for a variety of reasons" some of which are hunting and capturing for greed-based businesses like this one.
DRC feature their dolphins on their site with only one mention of Annessa. They have a way of putting it that is biased and incorrect, except the first two sentences:

Unfortunately for the facility, Ric O'Barry just confirmed the opposite:
"Annessa is seen all the time between Key Largo and Tavernier."
And according to The United States Marine Mammal Inventory Annessa was a captive born dolphin who was successfully released. And if it's good enough proof for the US Government, then it's good enough for me.
"MY STORY:
A.J. is quite a character. The explorer of DRC, he has boldly gone where few have gone before.
When a tornado came through Grassy Key in 1998, A.J. swam over the collapsed fences, around the causeway of land and moved into a new lagoon to live with his girlfriends, Santini and Aleta! A.J. is the proud daddy of Tanner and Luna. "
Maybe they were trying to escape too?
WILD DOLPHINS WHO ESCAPED THE PEN LIFE:
In digging deeper I find a few more dolphins who escaped during poor weather conditions and presumedly survived, although they were already from the wild.
This is testament that captivity does not effect their instincts to be in the wild and forage, even 20 years in captivity one dolphin named Gibbs managed to escape his pen during a hurricane.
Some dolphins escaped only to be trapped again.

On July 18, 1992 , in Key Biscayne, Florida, two escaped dolphins Molly and Lady enjoyed three weeks of freedom before it all ended on a Friday when they were netted by boaters who lured them near a dock using dead fish. The two marine mammals were then loaded into boats and taken back to the Ocean Reef Club in Key Largo. Bacall, a third dolphin who swam out of her pen with them, was captured two weeks later.
In Russia, it has been confirmed at least one dolphin ("Dicky") was successfully released back into the Black Sea.
Ric O'Barry said "I have released lots of dolphins successfully, it's possible."
So why is Seaworld still holding onto the myth that captive-born (or even veteran wild-caught dolphins) cannot be released back into the wild?
We all know the answer.
Let's all hope some of the dolphins held captive in pens in Taiji are safe during the typhoon that is hitting that area right now. The Dolphin Project video reports from taiji showing swells and stressed out dolphins: (no pictures shown)
In 2011 when there was another typhoon that hit Taiji, most the dolphins in those pens died, some were "lost". I hope this time they ESCAPE.
- Original post by Maral Kalinian for Cetacean News Network

Wild Captured Dolphins Taishan (male, 20 years old) & Boksun (female, 17 years old)
(Source: www.yonhapnews.co) (Summary below by: Natasja Dirken - WOW member)
Indo-Pacific Dolphins were captured in a group of 11 and sold to a traveling circus 6 years ago, off the Jeju coast in Korea. They lived in harsh surroundings and 6 of them died along the way.

In 2013 a civil group filed a complaint and the High Court ordered their release.
Chun-sam, Hae-sun and Jeadol were in good health and transferred to a seapen for rehabilitation. Jaedol had enough of that training and escaped after 2 weeks without being tagged!
The other 2 were released after a few weeks.
In the meantime Taeshun and Boksun had to regain their health and were transferred to the seapen last May. Just after 1 week, they were eating life fish again! And after a total of 6 weeks they were released.

The day of their release there was a wild dolphin pod waiting, and among them was Jaedol. As if he knew his friends were coming. Obviously, how could he....
The net was removed and Taishan and Boksun joined Jeadol and the rest of the pod and swam away. Just like that.
Even better news came when they found out that Chun-sam and Hae-sun were also in that same pod!
So the 5 of them are back in Juju waters were they were born.
They've been seen and doing just fine, eating and playing, diving and swimming around the island there. So in a timespan of 2 years, 5 dolphins who have been in captivity for 6 years are released and doing great!
Tom & Misha's Story
(Source: National Geographic)
In early January 2011 Jeff Foster, a 55-year-old marine mammal expert from Seattle, arrived on the stony shore of a pristine bay near the small village of Karaca, situated in a corner of the Gulf of Gökova on Turkey's southwest coast. Just offshore was a collection of floating pens used to farm fish. In one of them, which had been modified and measured about a hundred feet across and 50 feet deep, two male bottlenose dolphins swam in slow circles.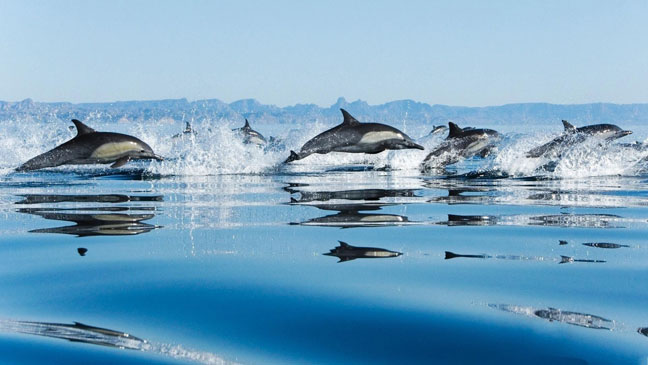 Tom and Misha, as they were called, were in lamentable condition. As far as anyone could tell, they'd been captured in the Aegean sometime in 2006, and almost nothing was known about their lives in the wild. After starting their captive lives at a dolphin park in the seaside town of Kaş, they'd been trucked a short distance inland in June 2010 to a crudely constructed concrete pool in the mountain town of Hisarönü so that tourists could pay $50 for the chance to grab their dorsal fins and get a ten-minute tow. Hisarönü consists mainly of cheap hotels and bars with suggestive names like Oh Yes! and thumping late-night music. It would be hard to imagine a more incongruous or disorienting location for two ocean-born dolphins. An inadequate filtration system quickly left the bottom of their pool carpeted with dead fish and dolphin feces.

Within weeks, an outraged grassroots and social media campaign organized by dolphin-loving locals had forced the place to close. In early September, amid fears that the dolphins would soon die, the U.K.-based Born Free Foundation, which is dedicated to the protection of animals in the wild, stepped in and took possession of Tom and Misha. The two dolphins were bundled into a refrigerated meat truck lined with old mattresses and transported to the pen off Karaca. Foster was hired to help Born Free attempt something truly ambitious: restore Tom and Misha to peak physical condition, teach them what they would need to know to live as wild dolphins again, and release them back into the Aegean. "It is extremely high risk with a creature that is not predictable and easy," says Will Travers, Born Free's president. "But we realized that there were very few options for them, and they were likely to die unless somebody did something." Continue Reading >>
Springer the Orca (Seen 11 yrs after her rescue and release, 2013 with a new calf)


Springer (born late 1999 or early 2000), officially named A73, is a wild orca (also known as killer whale) from the Northern Resident Community of orcas which every summer frequent the waters off the northern part of Vancouver Island, British Columbia (BC). In 2002, Springer, then a calf, was discovered alone and emaciated some 250 miles from her family's (called a pod), territory. Experts identified Springer by her vocal calls that is specific to her pod and by examining photographs of her eye patch.
They were also able determine where Springer's pod was currently located.
Months of heated public debate ensued until the United States National Marine Fisheries Service(NMFS) made the decision to capture the young orca and try to reintegrate her into her pod. On June 12, 2002, Springer was captured and moved to a seapen in Manchester, Washington. On July 13, after medical treatment and rehabilitation, Springer was transported to Johnstone Strait, BC and held in a seapen at Dongchong Bay, Hanson Island and released the next day. In October, Springer was seen traveling with her pod to the open ocean. The following July, she returned to Johnstone Strait with the same orca pod.

As of 2013, Springer has been observed with her pod in Johnstone Strait, becoming the only cetacean in history to be successfully reintegrated into a wild population after human intervention. In July 2013, 11 years after her rescue, Springer was seen off the central British Columbia coast with a new calf and is considered to be a contributing member of that population.
(Source: FreeMorgan.org)
Springer's successful reintegration back into the wild was done with help of many people and the cooperation of international bodies, Governments (USA and Canada) and NGO's (non-governmental organisations). Key advisors on the Free Morgan Foundation Expert Board, Jeff Foster, Ken Balcomb, Howard Garrett and Bob McLaughlin were involved with Springers training and rehabilitation for release back into the wild. Paul Spong and Helena Symonds of OrcaLab (left) also advised and continue to monitor Springers progress since her return to the wild. Springer's story clearly shows that this is the path that should have been taken by those who captured Morgan in the Netherlands (i.e., the Dolfinarium Harderwjik). However, despite their failure to rehabilitate her and despite the fact that Morgan now languishes in abysmal conditions in Loro Parque , our team of experts who include wild orca experts, veterinarians and orca trainers, are confident that Morgan can still be released. Help us spread the word that Springer is a very good example of how Morgan's rehabilitation and release should have gone. Lets make sure that Morgan's story doesn't become another Corky or Lolita captive orca story, where these poor individual orca have spent decades having to perform circus tricks. They will never have the chance to retire if kept in captivity in an entertainment park, as the only way captive orca ever retire is if they die.
Check out these amazing releases - dolphins, whales and more!

Proving further it is possible to release even captive born cetaceans!
A List of Examples (Orca Network) Compiled by Kenneth C. Balcomb III ©1995
Center for Whale Research - Friday Harbor, WA 98250

"Over the years that dolphins have been kept in captivity, some have been released back into the wild after varying periods of time. During most of these early dolphin reintroductions, the animals were often taken from a tank and placed back in the bays close to the facilities. Some of these were display animals no longer of use to the facility. In all these cases there was no followup monitoring" (Bassos, 1993).
This document is dedicated to "Keiko," "Junior," "Tanouk" and "Lolita," as well as the many smaller captive cetaceans which have been and are maintained in solitary confinement and inadequate facilities devoid of significant educational benefit to the public or conservation benefit to their species. They could be returned to the benefit of all.
For this preliminary summary, I have included anecdotal reports of releases of dolphins (including large species such as killer whales) from captivity by institutions and individuals which have maintained them in many parts of the world. I have also included a few examples of reintroductions of stranded cetaceans which provide useful background on followup documentation. But, it is not the astonishing durability and survival instinct of these animals in nature that is in question. Currently, a major point of contention in the issue of release or reinstatement of captive cetaceans is whether the dolphin or whale will readapt to catching live prey after it has been fed piecemeal in prolonged captivity. Another point of contention is whether released animals will spread acquired pathogens to the wild community, or have sufficient immunity from pathogens in the wild. And, a third point concerns the question of whether a released cetacean will readapt socially, or be condemned to a life of loneliness.
These points must be responsibly addressed; but, if post-captive release is lethal, dangerous and irresponsible, then why has it been done so many times by organizations that are generally considered responsible?
This is not intended to be an exhaustive list, and any additions or suggestions the reader can offer will be appreciated. Considering the worldwide, sometimes illegal and often unregulated trade in these animals, there undoubtedly have been other releases for institutional and business convenience which are not included herein. In the interest of proper historical documentation, I will list only those which have been published or have been reported to me firsthand by reliable sources. This does not include reports of approximately 20 dolphins that have been rehabilitated from stranding events and released back to the wild (NMFS records). It will be particularly useful in future editions of this publication to compile a list of releases of cetaceans that were examined by qualified veterinarians prior to release, and for which veterinary records (and/or specimen materials) may be available. This information, together with similarly compiled information from stranding events may yield useful epidemiological insights into the question of immunocompetence and introduction of 'captive acquired pathogens' to wild populations. The state of the art in telemetry and observational studies can in many cases reveal whether released animals fare well and are socially reinstated. Continue Reading >>
(Orca Network) Compiled by Howard Garrett ©1995
Anthropologists tell us that the stories we tell shape our perceptions of the world. No story about a whale, or probably about any non-human animal, has been told more than Keiko's story, so just by virtue of repetition it is historically important as cultural myth. Keiko brings to public awareness three things, if the story is told the way it has actually happened:

An animal welfare/rights issue involving the exploitation and mistreatment of orcas and animals in general; A true story that demonstrates the immense capabilities of these marine mammals and helps correct a vast quantity of misleading information; And an opportunity for the marine mammal scientific community to demonstrate their abilities to the general public by solving the problems of returning long-term captive orcas to their native waters. Scientists have shown the public the value of their methods of photo-identification, DNA techniques, sensing and telemetry, and acoustic science. These advances in field study methods can be applied to solving problems associated with retiring captives, even captive-born orcas, to natural settings, and potentially rehabilitating them for at least partial release.

Keiko's perilous journey to freedom is also an adventure, with danger and rewards, good guys and bad guys. Much of this history is drawn from personal conversations and news reports. For ten years we've heard a drumbeat of unfounded cynicism about Keiko's prospects from park industry and media critics who are not familiar with the natural history of the species in natural settings and are not accepting factual information, some of it recently learned. This telling of Keiko's history is intended to help people learn from his example. There have been many others intimately involved in Keiko's long reintroduction process who may have other perspectives. Please contact Orca Network with any additions or corrections to this rendition of Keiko's story. Continue Reading >>

As more information becomes available we will post it here on our Release Page.